Fresh pet food has been growing in popularity over the past decade, and more pet parents than ever are flocking to fresh options over processed dog foods. Due to frequent kibble recalls, concerned dog parents have shown interest in wholesome, homemade diets for their beloved pets. Fresh dog food, from companies like JustFoodForDogs (JFFD), is a healthier option for dogs, especially those who suffer from obesity, digestive issues, joint pain, and other ailments.

The conversion from kibble to fresh food for my dog took place in 2013. My Border Collie mix, named Indu, needed to manage her weight to alleviate hip dysplasia. She weighed 60 lbs and simple activities, like walks and going up stairs, were painful for her. I tried every commercial and veterinary-approved kibble I could find. When nothing worked, I opted for a homemade diet of boiled chicken, vegetables, and a few other ingredients. Within a year, she shed the excess weight and transformed into an energetic, thriving dog. Seven years later, Indu's hip problems are a distant memory, and she bounds with joy like a puppy on our hiking trips. A simple switch in her diet changed my dog's quality of life.

When I recently discovered JustFoodForDogs, I was relieved and excited to try it for Indu and my other dog, Andy. I admit, I was mostly looking forward to spending less time in the kitchen cooking for two dogs. But seeing how much they loved the meals from JustFoodForDogs, I am convinced that it's the way to go from now on. It helps to know that JustFoodForDogs was recommended by nearly 16,000 veterinarians in a survey conducted by the National Research Business Institute.

Keep reading to find out everything you need to know about JustFoodForDogs and how it can change your dog's life.

What is JustFoodForDogs?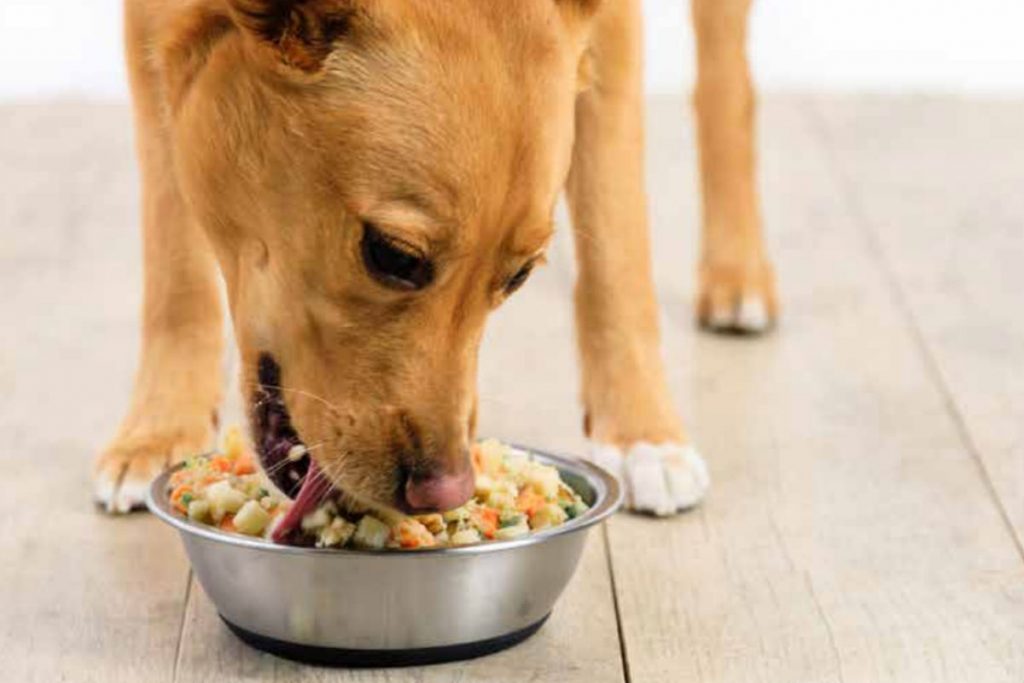 There is a dizzying array of fresh dog food options—all of which claim to be healthy and human-grade, and all of which can be delivered to your door on a subscription service. JustFoodForDogs has a few differentiating factors: The company is not new and has been making fresh dog meals since 2010.
Some of its meals are the number-one recommended meals by veterinarians in a national survey. All of their meals are backed by peer-reviewed studies at major universities. And you don't have to order a subscription—JustFoodForDogs can be ordered as a one-time purchase, and can even be shipped to a local store for pickup.

Let's start with those options: If you choose a one-time delivery, you'll pay a little more for the food as well as a $10 shipping fee. The box of frozen meals can be delivered to your home in an insulated box with dry ice—or to one of the company's retail locations, or specific Petco stores around the country. If you choose the subscription model, the meals will be shipped to your home without a shipping fee, and at a slightly lower price.
That price? For smaller dogs, JustFoodForDogs can be as little as $2 per day. Medium dogs will be closer to $5 or $7 per day, depending on the flavor and formula you choose. Larger dogs will cost more.

Based on information you provide about your pup—his or her gender, age, weight, activity level, body shape and more—JustFoodForDogs will recommend one of their meal varieties for you to order. Their "Fresh Frozen" meals are made of human-grade meats and vegetables, cooked lightly in one of their exclusive kitchens before being frozen and shipped. These meals have the appearance of hamburger chunks mixed with vegetables—which they are, for the beef flavor. There are also fish, venison, chicken, lamb and turkey varieties.

Each meal is designed with veterinary nutritionists, and has been studied with 26-week in-home feeding trials in conjunction with California Polytechnic University in Pomona. The food's digestibility has also been studied by scientists at the University of Illinois, who found that JustFoodForDogs' meals were 40 percent more digestible than regular kibble.

The studies also found that all the JustFoodForDogs meals meet the nutritional level standards established by the Association of American Feed Control Officials (AAFCO) for pet food by using companion dogs, not colony dogs.

In addition to the "Fresh Frozen" meals, JustFoodForDogs offers a line of "Vet Support" meals which require a prescription from your vet. In a national survey of 16,000 veterinarians, these prescription meals were the number one veterinary recommended fresh food diet. The meals come in varieties to aid renal support, hepatic support, metabolic support, joint & skin support, and more.

JustFoodForDogs determines the right portion for your dog through the profile you build, but you do have to measure before feeding. The frozen packages come in 18 or 72-ounce packages, depending on your order, which you defrost. Your dog will then require—based on her daily nutritional needs—a certain number of ounces of that package each day. But you don't have to do a ton of math—JustFoodForDogs gives you an amount of volume to scoop out. For instance, 12 ounces of one variety is also helpfully listed as two and 7/8 cups.
JustFoodForDogs has done studies on the effects of their foods, but fans of the food offer even more potential benefits: Reviewers say their picky pets gobble the meals up, have fewer skin and digestive issues, and the owners feel great about giving their dogs high-quality ingredients.

JustFoodfor Dogs is the only brand that cooks their fresh meals in kitchens that are open to the public. They are completely transparent and have won over many dog owners due to their honest approach. They even publish their own recipes in order to help dog owners with life-changing nutrition.
They are also the only brand that has a large dedicated veterinarian team with board-certified specialists in nutrition, dermatology and toxicology to make sure their meals help dogs with all their needs. JustFoodforDogs knows that your dog's nutritional needs are key to your dog's longevity and overall health.

JustFoodForDogs offers fresh pet meals that are backed by scientific study—and provides specific feeding guidelines based on your pup's weight, breed, age, body shape, and activity levels. And with the convenience of being able to subscribe or make a one-time purchase,
JustFoodForDogs makes it easy to try fresh meals for your dog without a huge commitment. And if your dog doesn't like their food, they'll refund the purchase price (minus shipping fees).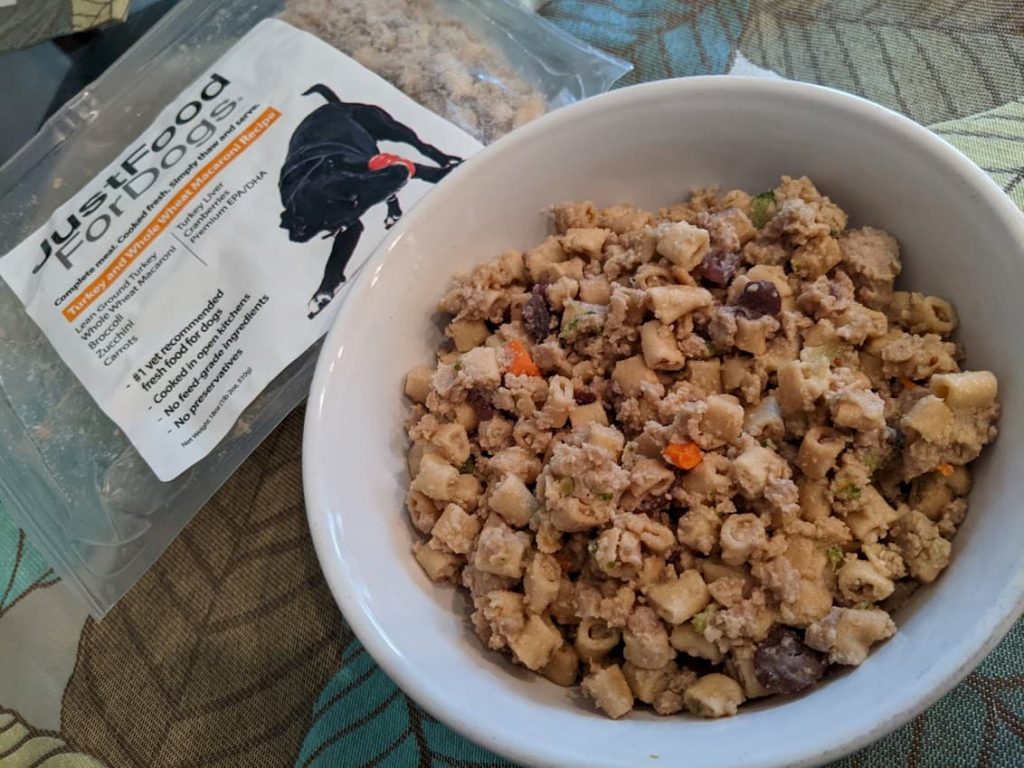 Pros
Human-grade meat & vegetable ingredients
Custom feeding measurements for your pet's specific weight, age, medical issues & breed
Meals formulated by veterinarian nutritionists
No preservatives or fillers
Fortified with fish oil & vitamins
Ships free with a subscription
Six recipe options to find the best flavors for your dog
Pause or cancel subscription any time
Shelf-stable options for when traveling
33 percent off your first order
Cons
Portions aren't pre-measured
Requires refrigerator & freezer space
Shipping fee if you're not on a subscription plan

How JustFoodForDogs Works

Unlike some of the other companies that we have reviewed, JustFoodForDogs allow dog parents to collect the food at kitchens and pantries throughout California, Seattle and New York, at trusted pet shops, or order online.

JustFoodForDogs have a sign-up questionnaire so the fresh dog food company can learn more about your four-legged friend, including information such as age, breed, weight, sex and activity level.

You can also include information about any allergies or health conditions that your pup may have so they can tailor their meals accordingly to meet your dog's requirements.

JustFoodForDogs clearly sets out how much of each individual recipe you will need to feed your pooch to meet their daily requirement.

Once you've selected your recipe of choice, JustFoodForDogs include calories per ounce as well as the ability to see customer reviews of the recipe.
JustFoodForDogs have gone to great lengths to improve the consumer's experience on their website since we first reviewed the company in 2018.
JustFoodForDogs Recipes and Meal Types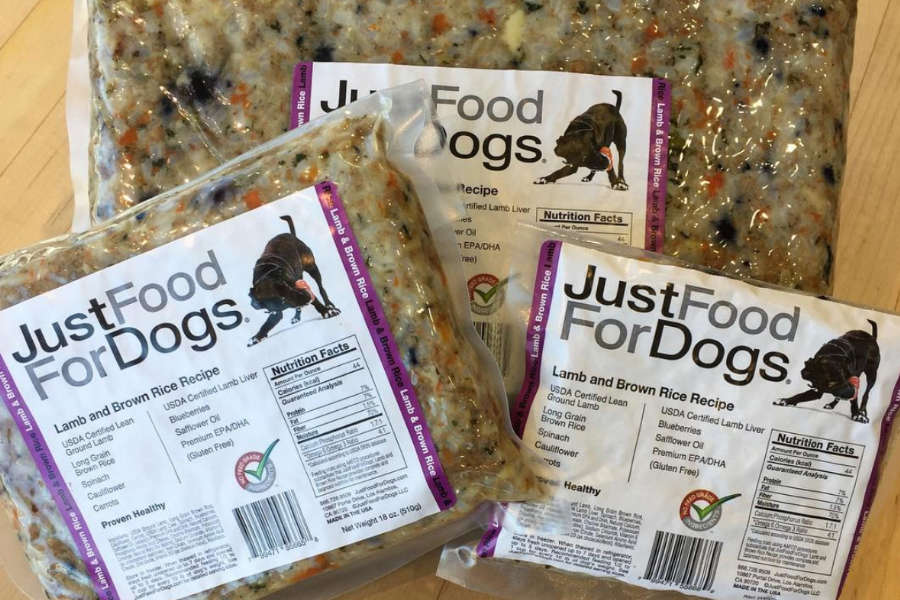 JFFD has a variety of meal and ordering options. See below for a breakdown of offerings:
Fresh Frozen Daily Diets: There are six daily diets, plus a limited-time seasonal special option that changes each quarter. These fully-cooked meals can be served after thawing.
• Beef & Russet Potato
• Fish & Sweet Potato
• Turkey & Whole Wheat Macaroni
• Chicken & White Rice
• Lamb & Brown Rice
• Venison & Squash
• Seasonal Special

Veterinary Support RX Diets: Pet parents can choose from eight support diets with a veterinary prescription. They include:
• Balanced Remedy
• Derm Support Fish
• Metabolic Support Low Fat
• Renal Support Moderate Protein
• Critical Care Support
• Hepatic Support Low Fat
• Renal Support Low Protein
• Joint & Skin Support

Pantry Fresh Daily Diets: These diets do not require refrigeration and have a shelf life of up to two years:
• Beef & Russet Potato
• Lamb & Brown Rice
• Chicken & White Rice
• Turkey & Whole Wheat Macaroni

Do-It-Yourself Kits: Each DIY kit makes around 30 pounds of homemade food and includes a recipe, shopping list, nutrient blend, and feeding guidelines based on your dog's caloric intake. These kits include:
• Beef & Russet Potato
• Fish & Sweet Potato
• Turkey & Whole Wheat Macaroni
• Chicken & White Rice
• Lamb & White Rice
• Venison & Squash
Healthy Treats: There are seven different types of healthy treats, including chicken breast, beef liver bark, venison, salmon bark, chicken apple bark, beef brisket, and pumpkin.
Veterinary Supplements: These include Omega plus fish oil, calm, joint care, skin and allergy care, probiotic live, and joint care plus.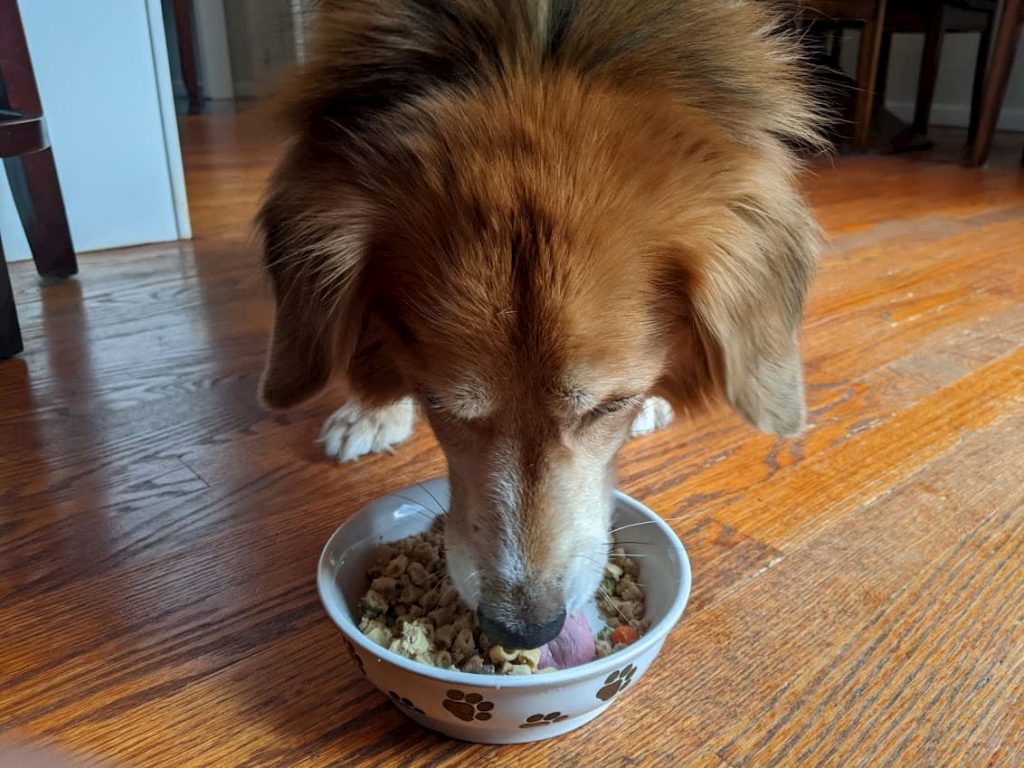 Feline Diet: JustFoodForDogs also offers Feline Daily Diet (Fish and Chicken) and salmon bark Feline Treats.

When you are ready to convert to fresh dog food, visit the JFFD website and take a quick online quiz to help you determine the type of diet and serving size that's right for your pet. It takes less than five minutes and offers suggested meals and prices. Once your order is placed, a box containing your pet's meals is shipped via FedEx.

For those who prefer a more hands-on approach, JFFD shares all of its recipes online so pet parents can cook for their pets from scratch, using their own ingredients and JFFD's recipe-specific Do It Yourself Nutrient Blends to ensure they are getting all of the nutrients required for long-term feeding.
Finally, for dogs with complex health issues, JFFD even offers meals customized to fit your dog's specific needs for a one-time formulation fee of $250.
Why We Love It: The Bottom Line

JustFoodForDogs offers fresh meals that can have your dog pooping 66 percent less than with processed kibble—sounds kind of gross, but that's important! According to a study from the University of Illinois, the reduced feces production by dogs who were fed JustFoodForDogs' meals was a result of absorbing more nutrients from the food. Less waste goes into dogs' bodies with these fresh meals, so less waste comes out.

That study is a big part of why we love JustFoodForDogs: The company's meals have lots of great reviews from happy customers, but they also back up their benefits claims with continued scientific study. Those studies show that a "fresh" diet, made of cooked, human-grade meats and vegetables, can help your dog live a happier, healthier life.

JustFoodForDogs makes these kinds of meals in their exclusive kitchens, and then tells you exactly how much to feed your dog based on your pet's weight, age, breed, body shape and activity level. And they make it easy to try their food—with a one-time delivery purchase—or make the switch completely with a subscription service.

Like other pet food subscription services, the meals are shipped frozen to your house at time intervals you determine, and at a lower cost than for one-time purchases—your first order is 33 percent off. Unlike other pet food subscriptions, though, JustFoodForDogs will let one-time users ship to a retail location for pickup, and also has shelf-stable—but still preservative-free—options for when you're traveling without a fridge.

The best part? It's guaranteed. If your dog doesn't have improved health, or just doesn't like the food, you can return it for a full refund (minus shipping fees).
JustFoodForDogs: Fresh Dog Food, Delivered and Made, Using Only Real Food